At 11 years
, he joined
San Rafael Military Academy
, where he is hardly liked. His physique fatty is worth a number of mockeries to him and he does not carry the uniform well, which deprives him of parade. To compensate, Ray excels in many sports, like swimming and football. But he does not want to remain in this school and manages to convince his mother to place him elsewhere.
At 12 years
, he moves with his family in Berkeley, California, where his mother will concretize a dream: to become piano teacher. Ray must then deal of his sister and his brother, as well as maintenance of the house. He is from now on in
Willard Junior High School
where he authoritative character the fact of taking part in many brawls. Always gifted for the sport, he excels with volley ball and, in same time, learns the violoncello under the impulse from his mother. But Ray hates that and decides to give up. It is his brother, James, who will become the musician of the family.
At 13 years
, during the summer, his mother sends him to work in a ranch of New Mexico, in Roswell, where he breadth enables him to do work of force. Ray adores to work outside and, when he returns at his home, his family finds him unrecognizable: he makes from now on 6', he lost 80 pounds and raises a superb bronzing. Whereas he makes camp-site in mountain, Ray makes an appendicitis attack and is operated of accuracy.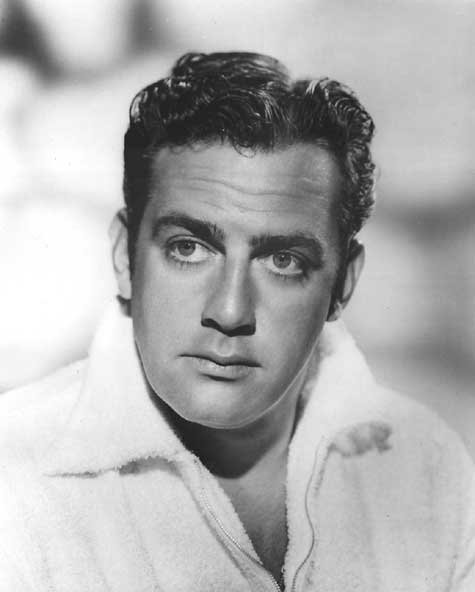 At 15 years
, Ray is bitten by a snake, which will leave him an after-effect: he goes with the right leg slightly turned towards the interior. During this period, he works for the radio KGW and manages to convince his mother to let it leave the school. Ray starts to work in multiples odd jobs (fireman, civil engineering, sylviculture, etc?) in order to provide for the needs for his family, touched by
The Great Depression
. He joined a school of actors,
Pasadena Playhouse
, but must quickly give up, not having enough money to pay his year.
At 17 years
, Ray does not have any more work and his mother decides to send him to Canada to return visit to his father. But the young man, not holding places, remains from there little time with him and joined
the Berkeley Players
in Toronto for a Canadian round. He training of the trade of actor starts with them. Then, Ray joined another group for a round in India, Australia and England where he plays
MacBeth
. Then he turns over to the U.S.A and spends one quarter to
Junior College
of Long Beach. His Smith grandfather needs assistance to liquidate a family property with Chungking, in China, and decides to take along Ray. This last spends six months to the university where he learns several Chinese dialects. Of return to the U.S.A, he works one six-month period in
San Jose Junior College
as professor. The night, he works with the radio KQW as actor and singer of radio. He can finally go back to
Pasadena Playhouse
to continue his career of actor.
At 18 years
, Ray forms a group of theatre to play to Y.M.C.A. He writes scripts and plays during the week.
To 19 years
, he goes to Toronto and meets the realizer Anatole Litvak. Ray joined a theatre company for a round in England.
In 21 years
, Ray attacks Los Angeles and Hollywood. There, he takes bad habits: he eats badly and sleeps very little. He falls seriously sick and the doctor prescribes a change of air to him. Minerva has a store of music in Los Angeles but, having very lost during Great Depression, she is likely to be obliged to sell. Curing the situation, Ray decides to commit himself in Forestry Service, which will enable him to work in the open air.
Ray learns some more on the plants, the animals and the ecology, which will remain a passion all his life during. In same time, Ray continues his duties for the college and writing of the articles for national magazines. His engagement in Forestry Service will last hardly two years.
A 22 years
, Ray decides to take again his career of actor. He forms a shapespeare's troop for a round in England: he plays MacBeth, Hamlet, Richard III and other parts. A project of film with
Paramount Pictures
is fallen through and it is at this period that Ray falls in love with a ballerina. He leaves with her through Europe - to Hungary, Germany and France in particular and learns several languages. Ray leaves his theatre company to settle in France. He finds a work in a cabaret,
Ruban Bleu
, where he sings in several languages. But it is not there what he wishes and his affair will not survive his choice of career. Ray turns over to the U.S.A when Germany starts to invade Europe. He joined
Stanford University
then
University of California
where he practises the baseball and swimming in
Olympic Club
.Ray receives a degree in psychology and English literature after six years of campus and course by correspondence.
At 25 years
, Ray turns over to England and meets Annette Sutherland, a Scottish actress. They marry and envisage to leave the country after their respective round. In 1943, Annette gives rise to Michael Evan Burr, whom she puts in safety in her parents, far from London, while waiting for the end of her theatrical contract. Ray, finished his round to him and awaits his wife with the U.S.A. The latter writes to him of Spain for him to say that she will seek Michael in England before joining him. June 1, 1943, Annette dies in the crash of the plane which was to bring her in London. Ray plays
Pasadena Playhouse
when he learns the news: he leaves the U.S.A for England, Spain and finally Portagal, trying to obtain information on the accident. He will not learn anything, if it is not that no body was found. Ray leaves Michael to the care of his grandparent before engaging like deferring war: he will work for against-espionage.
At 29 years
, Ray is disengaged from the military obligations with the rank lieutenant to order after a wound received during a bombardment. He is operated six times, in Australia, to remove glares of shell in his shoulder and his back. He receives
Purple Heart
and becomes reservist.
At 30 years
, Ray is back to
Pasadena Playhouse
and meets Isabella Ward, actress. They marry on January 10, 1948 in Bakersfield, in the sister of Raymond. They play together in a part but, in June, decide to separate; incompetents to fill their difference in temperament. Isabella will end up asking for the divorce on August 22, 1952.
In 1950, Ray is
33 years old
and to England will spend a few times with his son.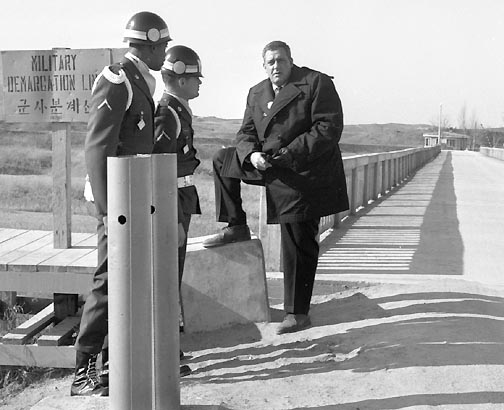 In 1951, Ray accomplishes its first voyage in
Korea
.On the whole, he will make 12 of them, bringing to the soldiers news from on their premises and taking their addresses and telephone numbers in order to call their family on his return. He visits the advanced stations, even those prohibited with civil, and present at the soldiers of the shows with
the U.S.O
(
United Service Organizations
). The soldiers are touched by his kindness and his simplicity. Ray spend Christmas with them.
At 34 years
, Ray will spend six months to Korea among the personnel of service American and written scketches which will be played by G.I. Ray rather prefers speech with the soldiers than with the officers. He is interested in the religion and studies Talmud, Coran and Bible.
At 36 years
, Ray will seek his son and the parents of Annette to install them with the U.S.A. He traverses the country with them and, the same year, Michael shows signs of tiredness: the doctors diagnose a leukaemia. They set out again in England where the young boy will die at the ten years old. Ray is very touched by this loss and, later, will adopt many children *. He turns over to Korea to visit military hospitals and installations: he goes in many countries and works much. Ray will make a new stay in Korea the following year.
In Christmas 1954, Ray visits a military base in Alaska when he learns by his mother her remariage next with William. Ray is very happy but will not come to the ceremony, in Seattle, to save to his parents the presence of a cloud of reporters. After their marriage, Minerva and William turn over to New Westminster. It is the same year that Ray meets Andrina Laura Morgan, a businesswoman, that he will marry a few times later. They prepare their honeymoon when the young woman abruptly falls sick: she suffers from a cancer which will carry her in a few months. Ray will not marry any more.
In 1956, Ray is
39 years old
when he is called with the bedside of his mother. The latter underwent a significant operation with the legs and must move in wheel chair. He will spend several months to be recovered. The same year, Ray is operated with the leg following his wound at the time of
Passion
film.
In 1957, Ray move in Malibu but spends there little time,
Perry Mason
hardly leaving him leisures.
In 1958, Ray obtains his first audience from Pape Jean XXIII: this last will have a great influence on his life and he will come to see him several times.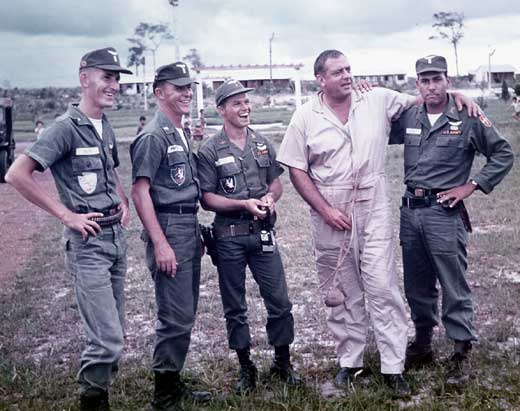 At 43 years
, Ray is hospitalized for a serious infection with the throat and back pains. Once given, he leaves for Japan, Rome - where he will meet again the Pope Franckfort and Stockholm. He is again hospitalized following an accident of helicopter in
Vietnam
, where he will go on many journeys to support the American troops.
At 45 years
, December 10, 1962, Ray is operated intestines because of cancerous polyps: the doctors insert a tube of Dacron to him.
In 1963, Ray accomplishes his first trip with
the U.S.O
in Vietnam, he will make 10 in all of them; traversing more than 40 000 kms, meeting 27 000 men personally, carrying out 1 200 hours of helicopter (6 voyages under the fire of the enemy), visiting 147 advanced stations and 200 separate units. He avoids the headquarters and the palaver with the officers to discuss with the troops. As for Korea, Ray pays his visits discreetly, with little escort. His trips in Vietnam will be the subject of a polemic, obliging the actor to repeat many times that he supports the soldiers in Vietnam, and not the war.
In 1964, Ray receives the visit in Los Angeles of the one of the children whom he adopted: Lincoln White. The two men spend a few hours together.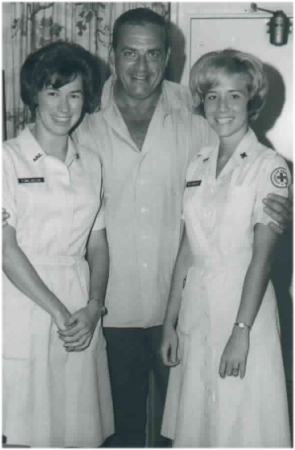 May 21, 1965, Ray spend his
48ème
anniversary to Vietnam, under the bombardments. July 26, 1965, Raymond Burr makes a speech ignited in
Los Angeles World Affairs Council
in order to wake up the consciences on the gravity of the situation in Vietnam. The same year, he buys Naitamba, an island of the Fiji.
At 49 years
, Ray turns over to Vietnam. He is wounded with the right hand by a rusted machine: its wound is badly neat. The same year, Ray must turn in
The road west
but, wounded by a fall of horse on turning, he will be replaced. In November 1966, Ray takes part in a parade and a family meeting with New Westminster. Then he is operated with his hand, badly looked after, which makes him suffer. Ray flies away for Naitamba, the island of the Fiji which he has just bought.
At 50 years
, Ray receives a doctorate in law on a purely honorary basis of
McGeorge School of Law
.The school needing to increase, Ray decides to support their action and sells his collection of objets d'art for the sum of 100 000 $. Every object will be accompanied by his autograph. October 6, documentary reporting one of his visits in Vietnam is diffused on NBC, Ray by ensuring the comments. He finishes on its words: "Vietnam is not a pleasant place for a visit. Can be that one day it will be it ". Ray turns over to Naitamba.
In 1968, at
51 years
, Ray is implied in a car accident with Arthur Rossen and Joy Moran. They will prosecute him to obtain 20 000 $ but the case will be arranged apart from the court. The same year, whereas he is in Naitamba, he catches the influenza which degenerates into pneumonia, thus delaying his return to the U.S.A. There, he attends a convention of
Paralized Veterans Association
. The same year, Ray organizes a collection of clothing for the benefit of the Vietnamese villagers and turns over over there. He is quoted in
Freedom Foundation
, Valley Forge, for his multiple actions in Vietnam. Ray created
Ventures of Fiji
, based in New Westminster, in order to export the products of his island.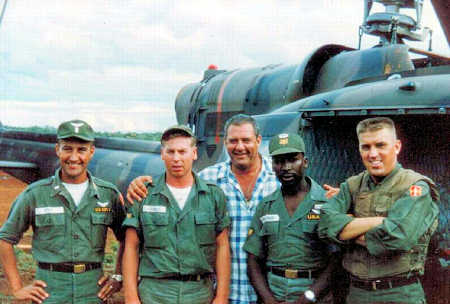 In 1969, Ray accomplishes a new trip in Vietnam. Wedged in a station advanced under the bombardments, he plays chess during whole night with a soldier.
At 53 years
, Ray travels in Naitamba with his partner and friendly Robert Benevides. The island is destroyed by an invasion of termites giants. On order of the doctors, Ray is supposed to rest during fifteen days. Instead of that, he traverses the Fiji to film scenes which will be incorporated in
Ironside
. Then Robert and suit him to London. The same year, Ray attends the ceremony of independence of the Fiji, in the presence of Prince Charles who represents England. On Naitamba, he makes the professor for the children of the school and lance a project of dictionary English-fidjien, which does not exist at the time. Children are sent in California to continue their studies: they are lodged at Ray, under the monitoring of Robert Benevides. Ray makes build a hospital on largest of the Fiji islands: he acquires a statute of noble.
In 1971, the following year, Ray goes to Canada to the bedside of his mother Minerva, again operated legs. To May, he turns over to Naitamba and takes part with the workmen in harvests, the shearing of the cattle and the culture of the orchises that he affectionne particularly. During the turning of documentary, Ray loses the use of the word suddenly and spits of blood. The doctors will find a hematoma on his vocal cords. Once operated, the actor must remain one week without speaking, feeding the most insane rumours with the one of the compressed tablets. Then, Ray goes to England, France and to Denmark. In London, he presents the plans of an electric chair for paraplegic of his invention at Lord Snowdon: it will be improved before being marketed. The same year, Ray returns visit to his friend Grace Kelly and to her husband, Prince Rainier of Monaco. From return to the U.S.A, he goes to Washington speech with the president of
Committee for Employing the Handicaped
in order to will discuss with him the problems encountered by the latter in the life. During the turning of
Ironside
, Ray discovered the constraints related to paraplegia: impossibility of returning in certain public places like the administrations because of the staircases, insufficient width of many doors, unsuited W.C, companies of plane and train refusing to deal with the paraplegic ones, etc? Ray traverses the country to make move the things: laws are voted.
At 56 years
, Ray goes to the Azores on business: he is not satisfied with the result and stress much. On the aircraft, Ray suddenly feels a violent pain in the arm then the chest: he is hospitalized urgently at the hospital of the armies and Universal Studios, prevented situation, send a specialist in the heart, based in London, on the spot. Ray will spend two weeks to the intensive care before being out of danger. He is then repatriated in the medical centre of UCLA for his convalescence. The doctors order the rest to him. In October, Ray persuades his parents to settle at his place in Hollywood, the health of Minerva not being excellent. What he is unaware of, it is that she is reached of a cancer. In December, her health deteriorate more. Ray, stressed by the situation, starts again to smoke.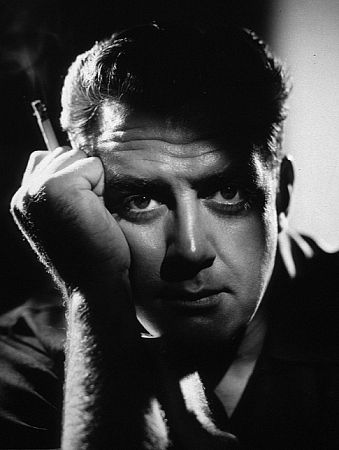 In January 1974, Minerva dies of the continuations of her cancer and William, her husband, decides to go back to Canada, in spite of the desire of Ray to see him remaining near him. In March, Ray makes a turn of Europe of the south history change the ideas. In October, he is again hospitalized, this time to withdraw his gall bladder: he is
57 years old
. His obesity makes the operation delicate.
In 1975, Ray develops the market of the orchises: he sells his production a little everywhere in the world. The same year, he makes the turn of the world with the Galloway family: they will make a pause with Naitamba to take rest. Ray comes to assistance of several associations which work for the handicapped people through the countries that he visits.
In 1977, Ray takes part in the convention of the flowers of New York and Boston in order to present his orchises.
In 1978, he works with a chemist to develop a line of cosmetics using the products of his island of Naitamba. Ray persuades his father to come to settle at his home, in Hollywood. The same year, he undergoes a surgical operation during which he is put at a special mode to help him to assimilate food. Thereafter, he takes 88 pounds in one year. This year, Ray loses two friends: Luella Gear, his partner of
Crazy with the heat
, and Gail Patrick Jackson, the executive producer of
Perry Mason
.
In 1982, after the loss of two friends - Natalie Wood and Grace Kelly- Ray sell his property of Hollywood and share to settle in a ranch with Dry Creek Valley, Sonoma, at a few hours of San Francisco. He seeks calms it and wants to cultivate his orchises as well as vines. His father want to return to Canada and Ray accompanies him to install in a cottage with Boundary Bay. Ray is
65 years old
. One year later, William dies.
In 1986, to
69 years
, Ray is invited to Colorado Springs by veterans for a dinner in order to thank him for his actions at the time of the Korean War and Vietnam. They call him "the old soldier".
In 1987, Ray sells Naitamba with a group which begins to respect the island and his inhabitants. The tourists can from now on visit the farm with the orchises.
At
74 years
, Ray is tired by his multiple activities and decides to take a few days of holidays at Sonoma. In February, he spend from the examinations to the hospital and the doctors discover a tumour with the colon. He is operated but its weight, 328 pounds, adds a risk of haemorrhage. The operation lasts 4 hours and Ray spends two days in intensive care. The doctors orders to him to rest. In March, they announce a bad news to him: his spinal column is reached, which will require a radiotherapy.
In January 1993, Ray is
76 years old
and learns that cancer reached his left kidney. The doctors want to operate him immediately but he refuses, being on the turning of two
Perry Mason
and
Retour of the Ironside
. However, February 1, he is gived up and between at the hospital. While passing from the examinations to make sure that cancer does not progress, Ray continues his radiotherapy. A few months later, he spend from new examinations and learns that cancer was propagated and that it is from now on inoperable. Ray decides to organize a farewell dinners with his friends and, in August, he is withdrawn in his ranch of Sonoma. Cancer reached the liver, the lungs and the brain, kind Ray to remain with the bed. On September 12, 1993, Raymond Burr died.
Curious coincidence
: in the episode
Grandmother's House
(
Ironside
, season 4), Raymond Burr alias Robert Ironside says: "76 years? a great year, an excellent year!"
In 2000, the town of New Westminster renovates a theatre and
Burr Theatre
for the Performing Arts in the honor of the actor baptizes it.
* Ray will be father voluntary in
Mickey Finn' S Boys Club
, who accomodates orphan children, of which some with a painful past. He supports many orphanages and, during his voyages, will adopt 27 children of different nationalities (including 6 Italian, 4 Vietnamese, 1 Korean, 1 Filipino, 1 Greek and 6 fidjiens). He learns how the language from each one of them in order to be able to communicate and visit as often as returns to them his timetable allows him: he takes care to provide them all the necessary one to ensure their future.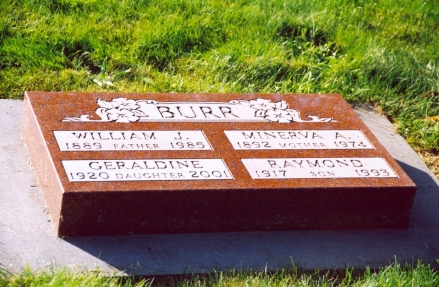 3-
Sources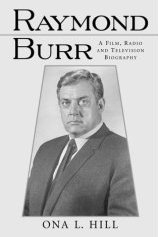 The majority of information available on this page are drawn from the American biography:
Raymond Burr, has film, radio and television biography
by Ona L Hill
with the McFarland editions