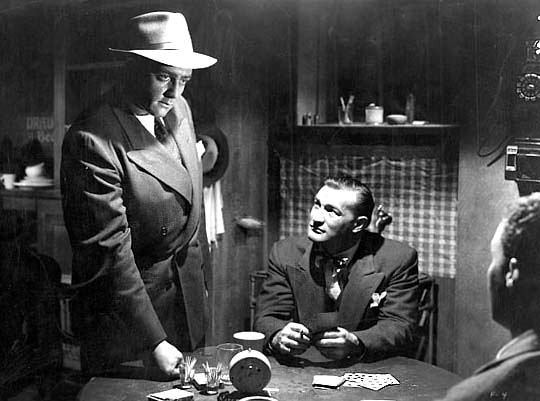 Desperate (1947)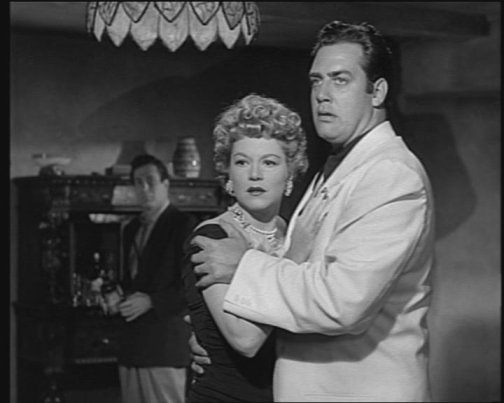 Borderline (1950)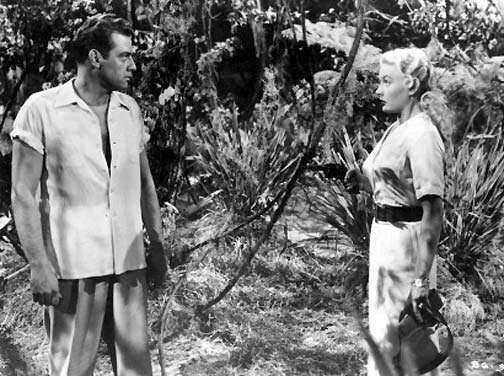 Bride of the gorilla (1951)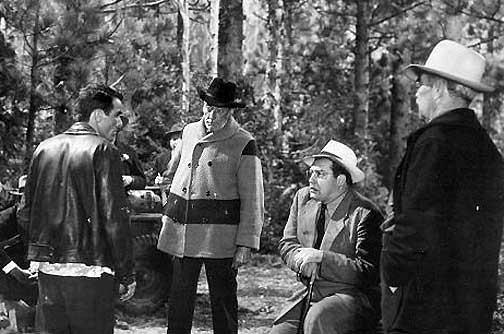 A place in the sun (1951)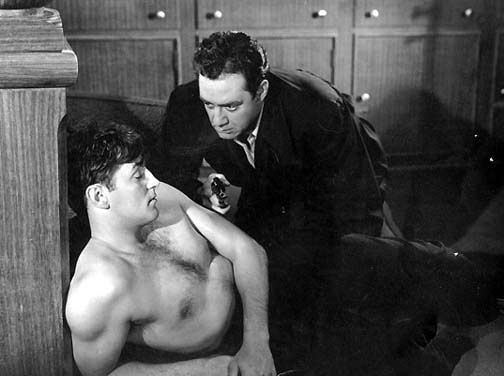 His kind of woman (1951)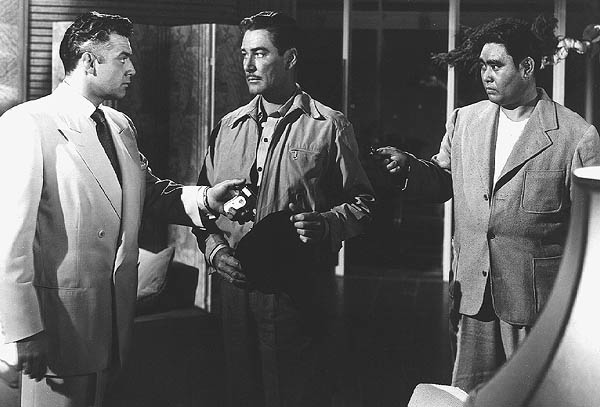 Mara Maru (1952)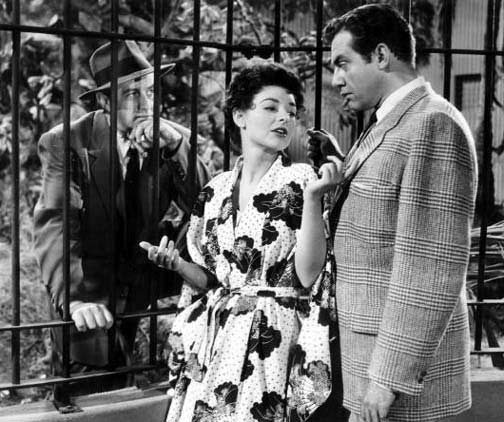 Gorilla at large (1954)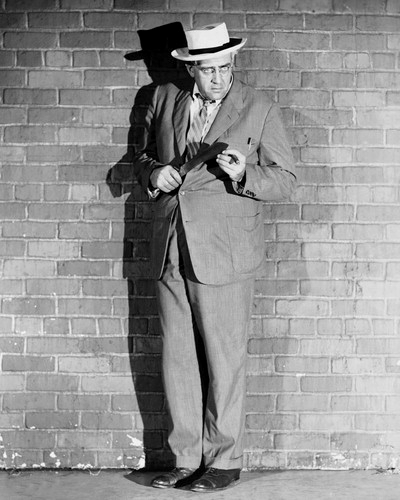 Rear window (1954)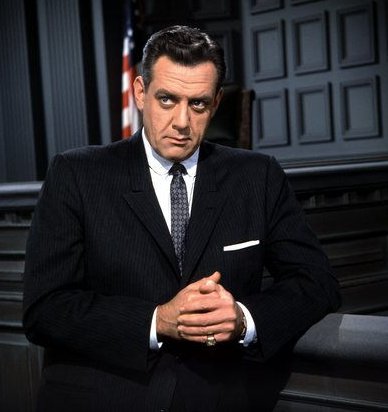 Perry Mason (1957)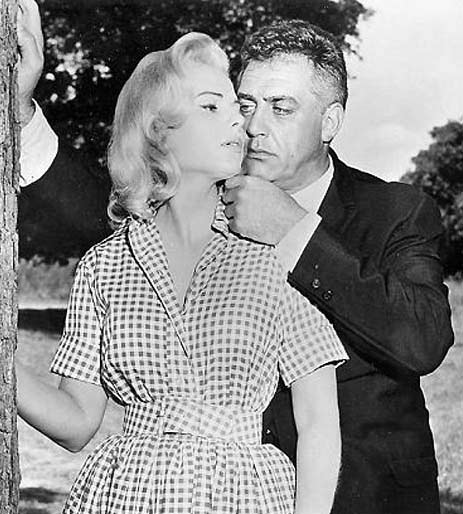 Desire in the dust (1960)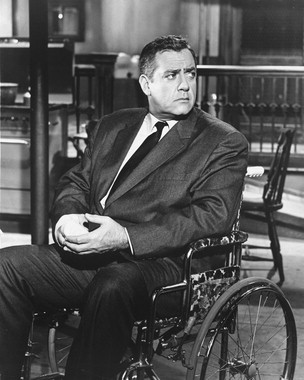 Ironside (1967)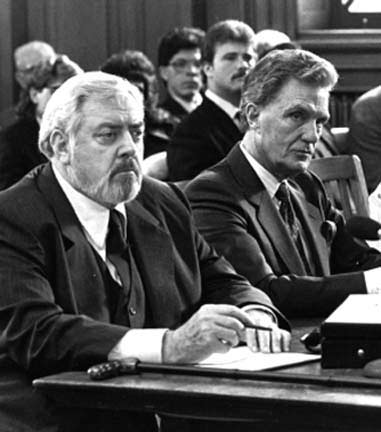 The return of Perry Mason (1985)
After the theatre and the radio, Raymond Burr plays of the small roles in films and decides, at

23 years

, to leave to the conquest New York and Broadway. Ray presents himself at many castings but does not obtain any engagement. He finds a work regular more odd jobs as a relector. Twice per week, he makes the radio operator actor in Massachusetts. In 1940, Ray becomes professor of theatre during one six-month period in

Columbia University

. The same year, in Boston, he takes place the first of a part entitled

Crazy with the heat

: it is a flop and it entirely will be rewritten for its release in Broadway one year later but with different actors. Ray leaves New York for California and tests many castings again, always without success. Disappointed, he continues to play for the radio.



At 25 years

, a producer of

Pasadena Playhouse

needs somebody to replace his principal actor and Ray passes hearing successfully. Then he goes to England for the theatre and makes a round in Spain before regaining the U.S.A.



At 26 years

, Ray goes back to

Pasadena Playhouse

to play in several plays. In New York, he is retained for

Duke in Darkness

, which opens on January 4, 1944 in Broadway: even if the part is not a success, his service is noticed. Ray signs a contract with RKO and plays in several parts.



At 29 years

, Ray measures 6' 11/2" for 185 pounds. He takes down a role of naive gangster who will mark the beginning of his career with the cinema. Thereafter, he will play the part several times of malicious but, frustrated by the little of roles which he obtains, Ray starts with too much eating and reaches the weight of 229 pounds. He breaks his contract with RKO, which does not have a role to entrust to an actor in overweight. Ray records radio operator shows for the armed forces, plays of the dramas and the comedies and continues his activity within

Pasadena Playhouse

. He helps his nephew, Norman Burr, who wants to become him also actor: the two men play together. In the year which will follow, Ray finds roles of malicious again: in

Pitfall

, which is a success, or in

Raw Deal

, where he play the part a sadistic head of gang. It will be, with 1951, his most prolific year (8 films).



At 31 years

, Ray weighs 308 pounds and play the part from now on "malicious" the type. He gains approximately 100 000 $ per year. Thereafter, he plays in several B films like

Red Light

or

Abandoned

.



At 32 years

, Ray will be two successes in radio operator shows:

Pat Novak for hire

, where he plays lieutenant Hellman, a brutal police officer, and

Dragnet

, where he play the part Ed Backstrand, a chief of the detectives.

In 1950, Ray is

33 years old

and decides to make a severe mode until returning to his weight of form, 185 pounds, that is to say a loss of 123 pounds. He plays the malicious ones again, amongst other things in

Borderline

.



At 34 years

, he takes down a role in

A places in the sun

, film accomodated particularly well by criticisms. He will have then only poor roles up to 1954. In the theatre, Ray play the part

Henri VIII

and

George Washington

in two excellent parts which will be a success. He appears in some shows TV.



At 37 years

, Ray turned in 39 films and takes down the role of

Lars Thorvald

in excellent

Rear Window

of Alfred Hitchcock where, however, he does not have almost any dialogue to say. With this occasion, he will play with a stuffing to appear larger. The same year, Ray is wounded severely with the leg during the turning of

Passion

and takes down new roles of malicious.
Between 1955 and 1956, Ray takes much weight again.



At 38 years

, he plays in

A cry in the night

with Natalie Wood, then 17 years old. The two actors have a affair but the studios will put the pressure to them so that they separate. They will remain friendly until the tragic death of the actress. Raymond Burr has from now on the row of star. The same year, he loses weight again and plays in

Please murder me

with Angela Lansbury, a polar with the original scenario, where Ray will be excellent. He continues to record shows TV.



At 39 years

, Ray plays in radio operator shows of which several will have much success:

Success of the mind

with William Conrad,

Silent Witness

and

Fort Laramie

. In April 1956, Ray is had a presentiment of for the role of

H amilton Burger

in the adaptation TV of the novels of Erle Stanley Gardner. He also wishes to pass hearing for the role of

Perry Mason

but does not obtain the downstream of the producing one. Ray decides to make a new mode to go down again to 209 pounds. He turns in a film of horror,

Godzilla

, considered later as a film worship.

In 1957, Ray belongs to the fifty finalists for the role of

Hamilton Burger

. When he enters the room to pass his hearing, Erle Stanley Gardner rises and declares: "He is

Perry Mason

". The other candidates with the role do not manage to equalize him. Ray is

40

years old. The same year, he signs a contract with Universal Studios for three films. He move in Malibu to be close to his work. He play the part again a chief detectives in

Crime of Passion

with Barbara Stanwyck: a rumour of lovesong between the two actors is launched in order to make advertizing with film. Then Ray plays in

Affair in Havana

the role of a cruel man in a wheel chair. From this year, the films will be spaced, Ray becoming "an actor TV".
September 21, 1957,

Perry Mason

passes for the first time on CBS. These are an enormous success which will bring back two

Emmy Awards

to Ray in 1959 and 1961. The series will count 271 episodes. Ray works 7 days a week, sleeps 5 hours per night and has a bad hygiene of life: he smokes and eats anything. He turns even when he is sick. In spite of that, Ray continuous to record shows TV when

Perry Mason

is in pause. This role will bring back a million dollars per year to him.

In 1960, Ray is

43 years old

and has some enough of the schedules that one imposes to him. He threatens of not renouveller his contract and,

Perry Mason

not being nothing without him, CBS yield to an exchange: Ray renews his contract against a loan to start his own house of production,

Harbour Production

. The same year, he plays of the parts for

Northland Playhouse

and begins three projects for

Harbour Production

which will be successes, making it possible CBS to quickly return in his funds. Raymond Burr, with his great distress, is often called

Perry Mason

, so much people tend to confuse the actor with his character.



At 49 years

, Ray signs a 7 year old contract with Universal Studios for films TV and theatre, he also signs with NBC.

Perry Mason

finish this year, in 1966, and Ray records a show TV entitled

Why Vietnam?


March 28, 1967, the first of the new series TV of Ray passes on NBC,

Ironside

, produced by

Harbour Production

. It will be his second large success TV. Ray works eight month of the year on

Ironside

and devotes the remainder of his time to shows TV: the televiewers, marked by his role of cop in wheel chair, note with surprise that the actor is not paraplegic. As for

Perry Mason

, the character takes the step on the man in the spirit of much of people… Ray is nominated five times at

Emmy Awards

for

Ironside

of 1968 to 1972 and twice at

Golden Globes

in 1969 and 1972. In Spain, he will receive

Foreign Actor's Award

. Ray carries out a promotional turn for the series in 10 countries of 14 days. The same year, he will appear in

Don Adams Show

. He becomes friendly with Don Galloway and Don Mitchell, his partners of

Ironside

. From now on, he pays attention not to take the wheel after having drunk one or two glasses, as opposed to what it made during the years

Perry Mason

.



At 51 years

, Ray joins again with the cinema for the film

New faces in hell

, renamed by Universal Studio

P.J

for not offend the public opinion, Ray again plays malicious at the sides of George Peppard. He takes much weight. In same time, Ray takes part in new shows but, this time, in comedies; proving thus that he can evolve in any repertory. Even if his row of star obliges there, he hates to appear in interviews TV.



At 53 years

, Ray receives a doctorate in dramatic art of

Pasadena Playhouse

. In Madrid, he receives

Golden Quixote Award

for

Ironside

. We are in 1970 and Ray learns with sadness closing earlier from

Pasadena Playhouse

, sifted debts and weakened by a theatre ransacked a few times. The same year, he takes part in a series of emissions entitled

You and the Law

, where expert lawyers discuss the civil rights: the hour of diffusion will be too late. Ray also takes part in

Dean Martin Show

with Harpo Marx.



At 54 years

, he play the part the king of the Tonga Islands in documentary and will take part, thereafter, with many others: Polynesia, Tahiti, the Island of Easter, Hawaii, Peru and Mexico. Often, he acts simply as a narrator. November 15, 1971, Ray takes part in an emission with president Gerald Ford and his wife. The same year, he turns a show TV

KopyKat

with Rich Little and lends his voice to the other documentary ones.


At 56 years

, during a pause of

Ironside

, Ray a project turns which is due to him particularly in heart: a film on Pape Jean XXIII. Don Galloway is at his sides, play the part Monseigneur Thomas Ryan. During turning, the F.B.I discovers a hiding place of drug on a ship used by the team of film. Nobody is implied but the popularity of Raymond Burr brings this business to the one of the newspapers. The same year, Ray takes part in a musical on ecology,

Keep America beautiful

. Dissentions with Barry Shear, the director of

Ironside

, appear and this last will leave the team.



At 58 years

, Ray stops

Ironside

, not finding sufficient interesting scripts and his health not being excellent. After the oddment, he will continue to work for the handicapped people so that they are inserted better. He signs a new contract with Universal Studios to make series and films TV, which gives the opportunity to him to direct, develop his ideas and to write scripts. The same year, he goes to London with James Burke for the show

The inventing of America

, a series of documentary explaining how an invention in pleasing another: turning will take place in Italy, in Nouvelle Zealand like in the laboratory of Thomas A. Edison, New Jersey. Criticisms will be excellent. In October, Ray returns to the studios for the turning of

Mallory

, with Robert Loggia, where he play the part a lawyer dishonest person: the audience is weak and criticisms bad. In December, Ray turns again of documentary and the shows.



At 59 years

,

Perry Mason

is designated like series favorite TV of the Fifties to 76. Ray starts a new series,

Kingston Confidential

, where he play the part R.B Kingston, a press baron which inquires into various businesses for his pleasure. The series will last only 13 episodes, the audience not being with go. As of the 4th episode, Ray knew that it would not last, scripts being too poor. The same year, he makes a film of formation for

McGeorge School of Law

where he ensures the narration. In July, Ray plays theatre

The good doctor

with Don Galloway. He is obliged to stop the round following a problem of teeth.



At 60 years

, Ray turns

Centennial

, a 26 hours show, based on the book of James Michener. Ray learns reopening from

Pasadena Playhouse

, thanks to many gifts, in which he took part. The same year, Ray flies away for Montreal where he signs a contract with March Films Ltd for two films of theatre, over two years. In the first,

Tomorrow never comes

, Ray incarne a bad police chief : criticisms are bad.

The following year, in 1978, Ray plays in a film TV,

79 Park Avenue

, where he play the part a godfather of a mob syndicate. The spectators are shocked to see at which point it took weight: Ray weighs 300 pounds. The same year, he plays in an episode

Love Boat

,

Alas, Poor Dwyer

, where he play the part an alcoholic English professor. For the first time, the spectators have the occasion to intend him to sing. In Vancouver, Ray takes part in an interview TV,

Alan Hamel Show

, to speak about his film

The Jordon chance

which receives good criticisms.



At 62 years

, Ray makes a new film TV,

Love's savage fury

, a drama on the Civil War. Then he ensures the narration of the film

The trial of Xavier Solorzana

before incarner a police chief in

the Eischeid

series. Once again, Ray is made to narrator for film

A life one paper

based on the life of William Faulkner. Then, he play the part a psychologist (Doctor Brean) in

Out of Blue

before turning in an episode of

The misadventures of Sheriff Lobo

(the pilot) where he play the part again a godfather of a mob syndicate. Then Ray flies away for Egypt in order to make the film

The curse of King Tut's tomb

, which will be the theatre of several odd accidents, allotted to a curse: Ray is one of the victims, he makes a bad fall and knocks the head, he will remain two days unconscious at the hospital.



At 63 years

, Ray makes several films TV:

Presto Chango, it's magic

;

Psychic phenomena

;

The alien's return

where he play the part the role of the father of Cybill Sheperd;

Disaster one the coast train

where he play the part the president of a railroad company and

The night the city screamed

. The same year, he makes discover with the American public an israŽlienne artist met in the Fiji, Triska Blumenfeld. Then, Ray makes the film

The acts of Peter and Paul

where he play the part king Herod Agrippa.



At 65 years

, Ray returns to teaching while becoming professor of theatre to

Sonoma State University

, Rohnert Park. He is as well installed in the businesses and engages for

Block Brothers Realty Company

for spots TV. The same year, Ray becomes the spokesman of

Independent Insurance Agents

with which he will work during 10 years. They oblige him to follow a mode and Ray will lose 100 pounds in 2 years.


At 66 years

, Ray goes to England for the theatre and makes a round for a part called

Underground

. He is victim of a bad fall and tears off the cartilage of the knee.



At 68 years

, Ray turns a new version of

Godzilla

, entitled

Godzilla 85

, where he takes again his role of deferring Steve Martin. This film will be a financial pit. The same year, Ray signs a contract with Viacom, under the impulse of Fred Silverman, for

The return of Perry Mason

where he finds the role which made him famous. Barbara Hale is the only other actress still in life of old the casting. She takes again her role of Della Street and her son, William Katt, responsability that of Paul Drake Jr, the son of the private detective. Turning takes place in Canada and Barbara Hale will play as often as possible sitted, because she recovers from a fracture of the hip. In this first episode,

Perry Mason

became judge and will give up his load to come to assistance of his former secretary, shown murder. The audience is excellent,

Perry Mason

beating

Bill Cosby Show

. Other episodes are put in building site.



At 70 years

, Ray is victim of an accident on the turning of

Perry Mason

: he tears the ligaments of the right knee. The operation which results from this is included in the 6th episode,

The case of the murderer madam

, in order to explain that he moves using a cane. Thereafter, Ray complains about the poverty of scripts. With the general surprise, episode 9,

The case of the lady of the lake

, gains an enormous success. Ray stopped again smoking and, because of that, took weight: he weighs 320 pounds. NBC wants to continue

Perry Mason

but Ray, wants to stop to him. He will change opinion in front of the excellent audience of the series. The same year, Ray sees his post of professor of theatre extended to

California Polytechnic State University

. He opens two schools of theatre, one in Denver and the other in Cincinnati.



At 74 years

, while making his treatment by radiotherapy to fight against his cancer, Ray continues the turning of

Perry Mason

. His contract with

Independent Insurance Agents

is broken because of his health.



At 76 years

, Ray turns his 25th

Perry Mason

. He lost weight and appears in better form. In same time, he begins the turning of

Return of Ironside

and NBC orders six new episodes of

Perry Mason

. Other

Ironside

are envisaged, the audience being excellent. The same year, Ray is named

Doctor of Human Letters

by

University of Colorado

, in Denver. At July, he arrives on the turning of 26th

Perry Mason

,

The case of a killer kiss

, in a wheel chair. It is there that everyone realizes of the gravity of his state. Script is rewritten so that Ray can pass the maximum of sitted time. It will be his last turning, he will die two months later.




Maybe on the whole

:

Raymond Burr has his star on Hollywood Walk of Fame to the 6656 Hollywood Boulevard.